I chose this subject because Apple has done something truly remarkable. They have done something that almost no other company is in a position to do, and they have accomplished something that should have other company's shaking in their boots…especially Intel.
Because Apple manufactures the hardware AND creates the software they were basically able to create something truly unique. They were able to take their experience in working with a variety of manufacturers and see what worked well and what didn't. They took a step back and tried to look at where the bottlenecks were and how to work around those. Or more appropriately, how can we remove those altogether. The result of this viewpoint is their SOC…or System On a Chip. By re-thinking how the entire infrastructure works they don't have to work within the confines of individual "components" like the processor, the RAM, and the video card. Instead they've combined all those into a complete system that is able to communicate much faster than the old system of thinking.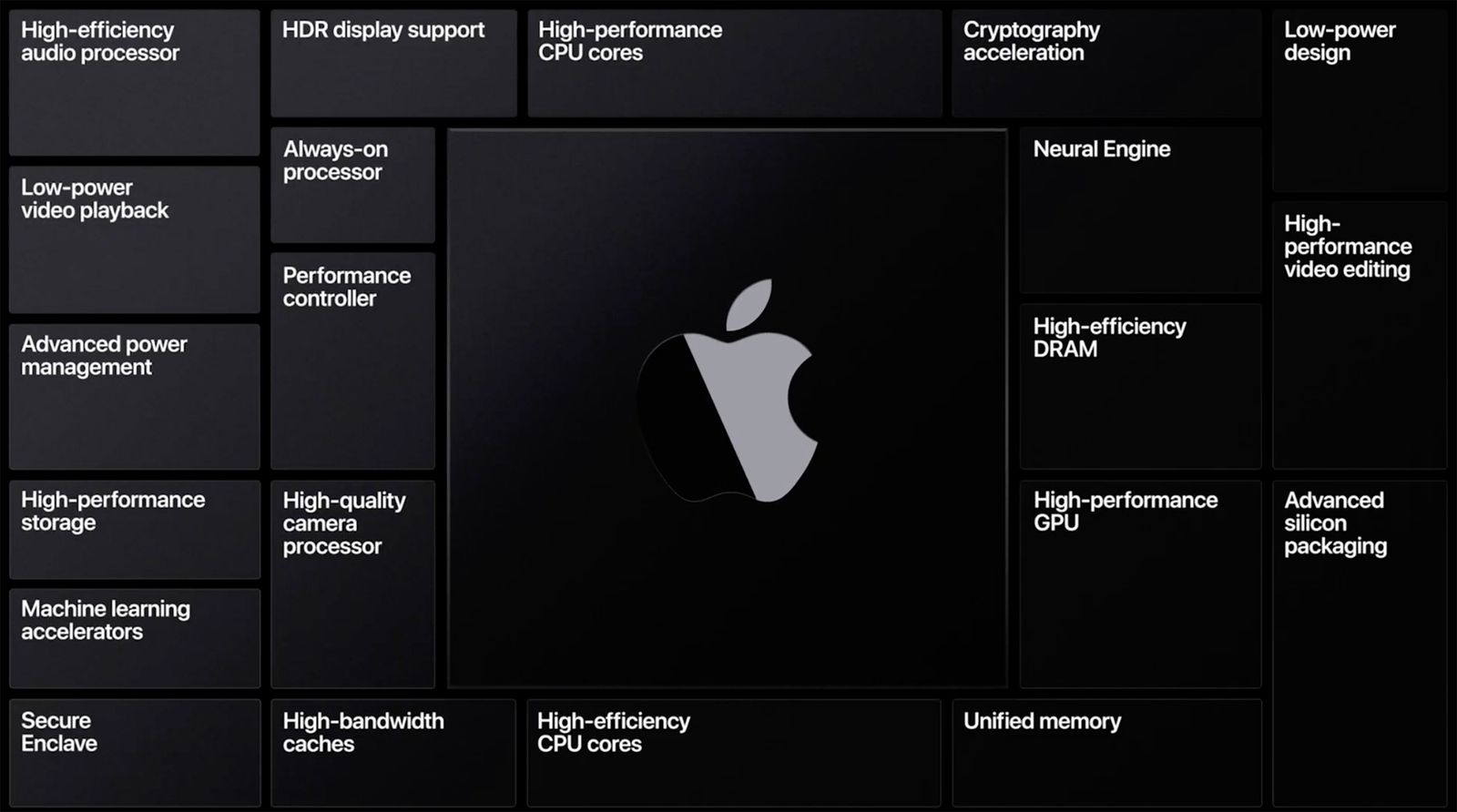 Now you may be thinking…how can Apple just jump into chip making? Doesn't it take years of testing to be proficient at making notebook and desktop processors? And you'd be right. But…Apple has been making chips for years already! They've been making chips for the iPhone since 2014, and they've been really good at it. The Apple designed processors have been very powerful and efficient and they've been refining their designs each year. None of the manufacturers for Android have been able to come close to the performance of the iPhone and iPad processors. In fact the Mac Mini designated the "Developer Transition Kit" which was the first Apple desktop with Apple silicon was running an iPad processor. It ran really good and impressed many with it's speed and efficiency. This was the predecessor to the first M1 processor.
The M1 processor first released in the Mac Mini, Macbook Air, and 14″ Macbook Pro was like nothing the world had ever seen. It outperformed all comparable Intel processors with battery life that was unheard of in the Windows / Intel world. But Apple didn't stop there. They've continued to innovate and improve their chips coming out the with M1 Max and Ultra with increased performance for the Macbook Pro and Studio. They've also come out recently with the new M2 processor in their latest redesigned Macbook Air.
I mentioned earlier that Apple did something here that almost no other company was in a position to do. It seems to me…that there is only one other company in the world who could attempt to follow in Apple's footsteps if they chose to do so. That company is Microsoft. They obviously have been making the Windows operating system for decades now and they've been fairly successful making their own hardware with the Surface line of tablets, notebooks, and desktops. They just need to have the courage to invest in making their own internal components, their own SOC or System On a Chip, as Apple did. Time will tell if they ever choose to follow in Apple's footsteps. Until they do we will continue to watch as Apple continues to take more and more marketshare of the worldwide PC marketplace.